Gatehouse Nursery Class Newsletter
1 January 2020
www.gatehouse.dumgal.sch.uk https://twitter.com/GatehseNursery
Session Times: Morning 8:45-9am flexible drop off 11.55am pick up
Afternoon 12:15pm drop off 3:10-3:25pm flexible pick up
Happy New Year to everyone and a very warm welcome to our new starts: Astrid, Pippa and Roman.
Dates for your diary
13 January Walkabout am
13 January Play & Pick Up 2-3pm
14 January Stay & Play 9-10am
14 January walkabout pm
15 January Library am
16 CAPER or Story Sacks am & pm
16 January Personal Plan Meetings am & pm
17 January personal Plan meetings am
17 January Library pm
20 January Walkabout am
20 January Curriculum Evening for parents
21 January Walkabout pm
22 January Library am
23 January Early Years Ceilidh 9:15-10:30am
23 January CAPER or Story sacks am & pm
24 January Library pm
27 January Walkabout am
28 January Walkabout pm
29 January Library am
30 January CAPER or Story Sacks am & pm
31 January Achievement Assembly 2:15pm
3 February Walkabout am
3 February Play & Pick Up
4 February Stay & Play 9-10am
4 February Walkabout pm
5 February Library am
6 February CAPER or Story Sacks
7 February Library pm
10 February Walkabout am
11 February Walkabout pm
12 February Library am
13 February CAPER or Story Sacks
14 February Library pm
17-21 February Holiday – no nursery
24 February Walkabout am
25 February Walkabout pm
26 February Library am
27 February CAPER or Story Sacks am & pm
28 February Achievement Assembly
Parental Engagement
Thank you to the parents who completed out online survey about Next Steps.
Responses
My suggestion for involving me in my child's next steps:
I think sending the learning journal home is a good idea. Although I like the postcard idea as well, it's a lot of additional work for teachers.
We have started a small test of change with those who responded and will be reviewing how these children are developing and making progress as a result of the changes we have made. If this is successful we will extend this to all children.
Library Visits
The rota for parent helpers is now up in the cloakroom for anyone who would like to help with walks to the local Library.
Clothing
Please ensure that your child is suitably dressed for the weather conditions and that any shoes, wellies, bags and clothes are labelled clearly with your child's name. With the weather now turning colder it is a good idea to send in a pair of thick warm socks for your child to wear with their wellies. It is helpful if you can bring a bag with spare clothes to nursery daily. If your child is still in nappies or pull ups, please speak to staff and arrange to leave a supply here in the changing area. Thank you.
Early Years Ceilidh
On Thursday 23 January we will be joining with Primary ½ to celebrate Robert Burns with an Early Years Ceilidh. This will be held in the school hall. Could all children who wish to attend be in nursery for 9:15am wearing something tartan (if you have it – please don't buy if you don't as we have little ribbons we can fasten to the children's clothing). Parents/Carers are invited to join us in this celebration which will finish at 10:30am. During the ceilidh we sing Scottish songs, say poems and rhymes, and do some dancing to Scottish music as well as share some stories in Scots.
Hub Coffee/Tea Afternoon
Our Hub room is up and running and open for parents every Friday 2:30-3pm. Feel free to drop in for a cuppa and a chat with staff and/or other parents. Please note the Hub Room will not be available during Achievement Assemblies.
Weekly Walkabout
Our walkabout sessions will be during the sessions on Monday morning and a Tuesday afternoon. Please add your name to the rota in the cloakroom if you would like to help with these.
Curriculum Evening
Thank you to everyone who made time to come to the recent Curriculum Evening about Listening and Talking. If you were unable to come please see the Top Tips Display in our cloakroom and ask for a handout from the evening. In January we will be organising another Curriculum Evening for Monday 20th January, 6-7pm.
Stay & Play or Play & Pick Up
We are introducing Stay & Play for a morning session 9-10am and Play & Pick up for an afternoon session 2-3pm once a month. This is an opportunity for parents/carers or extended family members to come to nursery play and interact with the children once a month. We welcome you to come and join in the fun with us, please feel free to bring younger siblings too!
Enrolment for Primary 1
Monday 13 & Tuesday 14 January are the dates for enrolling those children due to go to Primary 1. If you have opted to defer your child you do not need to enrol them until next year.
Please bring your child's birth certificate and proof of your home address (a household bill or bank statement) to the school office between 9am and 3:30pm on either of the above dates. Please see the Council Website for further details: https://www.dumgal.gov.uk/article/15241/School-places
CAPER & Story Sacks
If your child attends nursery on a Thursday they will have the opportunity to borrow a book or a story sack each week. We do books every week but the story sacks are given to a small group of children at a time in blocks of 3 weeks. It is really important to give staff time to check the books and story sacks on their return and we would ask that they are all back in nursery by the following Wednesday. If your child does not return the book or story sack until Thursday they will not be given a new one that day but will have to wait until the following week.
Personal Plan Meetings
Within Nursery we have a legal requirement to create a support plan for every child. We call these Personal Plans and to enable us to meet the legal requirement we meet with parents within 28 days of your child starting nursery. Please speak to Nursery Staff to arrange a time to meet with Mrs Irving/Miss Denholm. Those who have previously met with Staff are also due a review appointment; these will be taking place Thursday 16 & Friday 17 January – please speak to nursery staff to arrange a time for your child's Personal Plan Meeting.
During the Personal Plan meeting we discuss the SHANARRI wellbeing indicators (Safe, Healthy, Active, Nurtured, Achieving, Respected, Responsible and Included). As part of the Early Years Collaborative (a National Initiative) we have developed the format of the Personal Plan Meetings to include the wellbeing web. Please see the diagram below: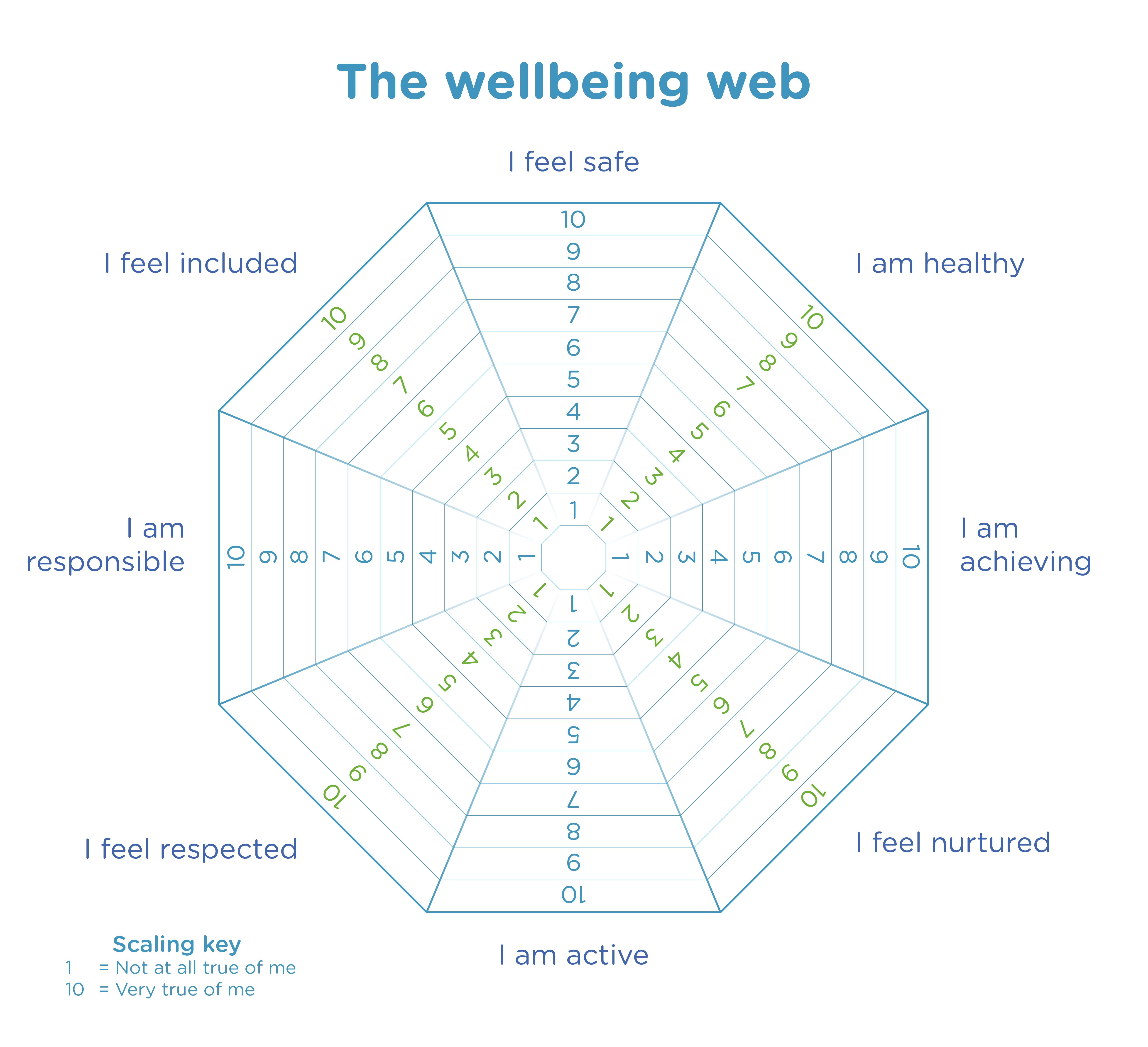 Scaling key:
1 = Not at all true of me
10 = Very true of me
Prior to your meeting with Staff you will be given information about the SHANARRI wellbeing indicators to give you a chance to discuss them with your family before the meeting.
We are also seeking feedback on the meetings to find out how useful parents find them and would appreciate it if you could take some time to either comment to staff or give us written feedback.
Nursery Manager
The post of Nursery Manager has been advertised this week along with all of the posts across the Local Authority. Please share this advert as widely as possible. https://www.myjobscotland.gov.uk/councils/dumfries-galloway-council/jobs/nursery-manager-178470